For over 60 years, Solipac has been a specialist in packaging solutions in the fruit and vegetable industry. With our in-house products, we are a global leader, and we can confidently state that our products are held in hands all over the world. We have made it our mission to use this reach and make the packaging industry more sustainable through innovation – in many ways.
Your day at Solipac is flexible. You shape your tasks as they suit you. How you achieve your goal is not important. What matters is that you reach your goal. Your colleagues are always there to help you when you need it. Through regular events, you get to know your colleagues better and quickly become a solid member of the team.
Do you have a handyman appointment, need to visit the doctor, or simply want to enjoy your morning? No problem. Thanks to flexible working hours and flextime regulations, you can design your workday yourself.
We don't offer home office. We go a step further and call it Mobile Working: You work from anywhere in the world. As long as there is a stable internet connection, there are hardly any limits.
Haven't we been able to convince you so far? Of course not, if you haven't even seen your workplace yet. Your office is located in a newly built facility that was occupied in 2019 and has received design awards.
Modern height-adjustable desks and ergonomic office chairs may not turn your workday into a spa visit, but they are comfortable and promote health nonetheless.
Speaking of health-promoting: In addition to the usual amenities such as water, coffee, and tea, our office kitchens offer fresh fruit baskets as well as smoothie and cereal stations for a healthy meal in between!
We already have plans for a balance room with relaxation options, sports equipment, and more, but we still need energetic support to implement it.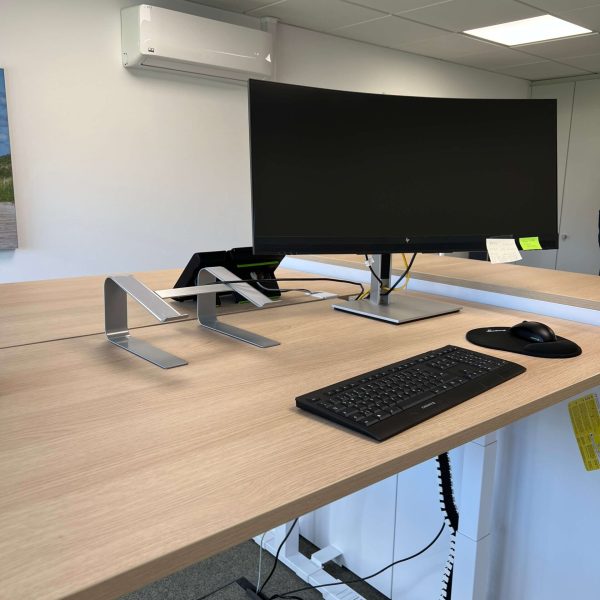 If you're not from Hilden, you probably know Hilden best from the Hilden interchange, where the A3 and A46 meet. And that's exactly where we are located.
In the still very young industrial park "Giesenheide," we are in the best company with one of the largest charging parks for electric cars in Europe, providers of fully automated steel parts, suppliers for the global railway industry, and many other hidden champions. Conveniently located, as described earlier, directly at the Hilden interchange. The industrial park is also easily accessible by public transport.
Thanks to our self-generated electricity, we can offer you the opportunity to charge your electric vehicle (car, scooter, motorcycle, etc.) free of charge during working hours.
ARE YOU A PASSIONATE CYCLIST? PERFECT!
We offer you the opportunity to use the JobRad (Job Bike) program. Take advantage of the well-developed cycle paths through forests, meadows, and the green parts of Hilden on your way to our location.
Great that you've read everything up to here! Now comes the most important part for you: Your benefits at Solipac.
In addition to the basic requirements of fair compensation, the possibility of company pension schemes, and the advantages mentioned above like Mobile Working, flexible working hours, etc., we offer you further outstanding benefits that you can use to grow within the team.
We strongly focus on the development and promotion of individual talents and believe that free development is more productive than any rigid structure.
Our benefits are diverse, so here's a small selection:
Managing Partner of SOLIPAC GmbH & Co. KG
Use our digital 1-click application and tell us why you're a fit for us. We're looking forward to your meaningful application.